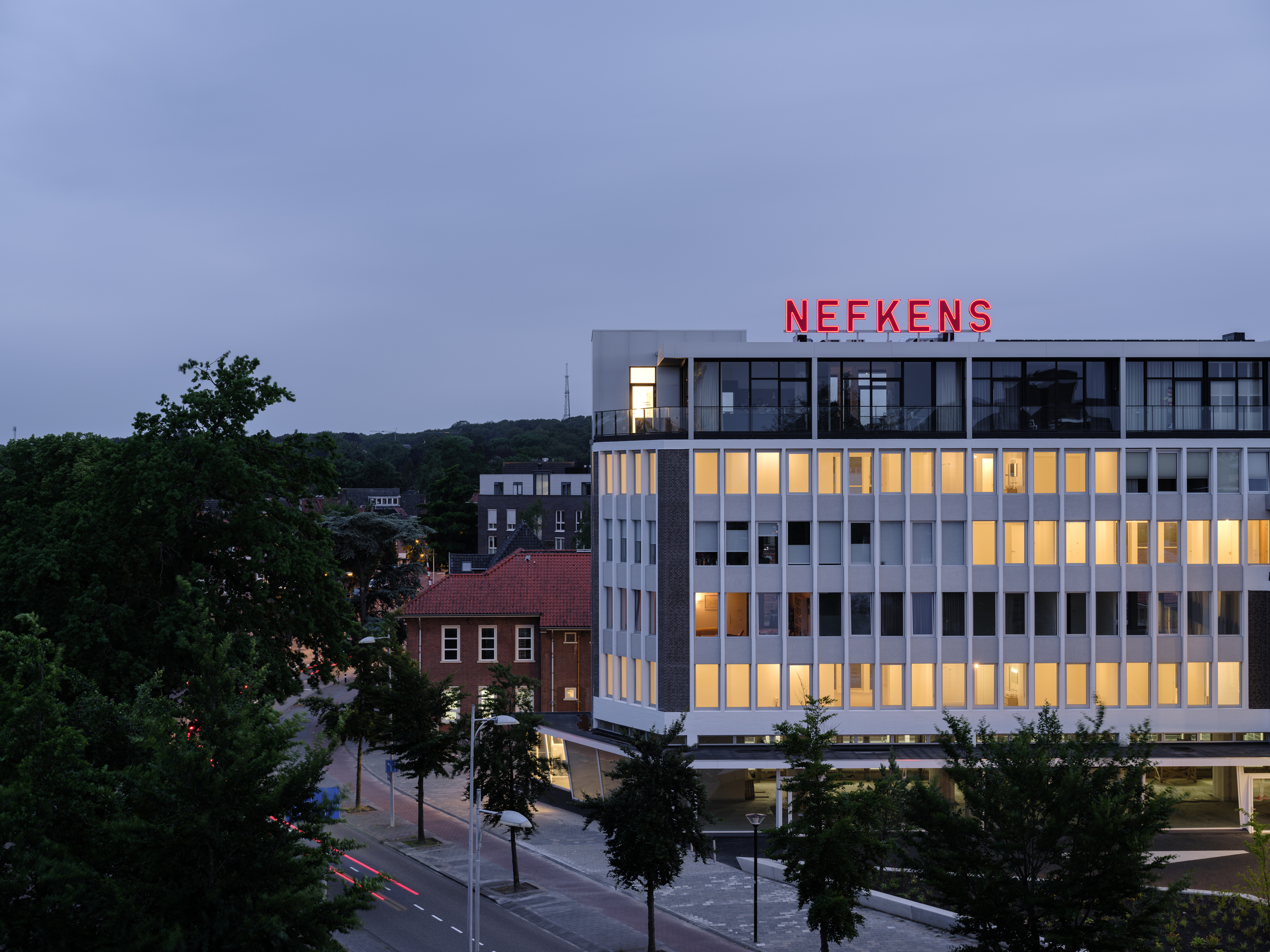 Nefkens Park

A familiar presence beside a busy intersection near the centre of Amersfoort, the striking Nefkens building has been sensitively transformed from commercial premises into a 31-apartment residential building. The height of the L-shaped structure has been raised with a penthouse storey, while a pedestrian underpass and added greenery creates a connection with the park behind the building. Generous balconies and terraces enliven the previously mute park-side elevation.

Built in 1969, Nefkens building enjoys local heritage status. Designed by Gé Pothoven (1915-1997) for the Nefkens family automotive business, the building comprised a car showroom and petrol pump at ground level and offices above.
Twenty years ago, after the building was acquired by the Schipper Bosch development and investment company, the petrol station was demolished, and the showroom became a restaurant.

The conversion to a residential building was viewed as an opportunity to make the forecourt more welcoming for pedestrians. A long planter filled with a variety of greenery now acts as a buffer with the busy Utrechtseweg. As well as benefiting the restaurant terrace, this also turns the forecourt into an extended common area for the seven short-stay apartments that now occupy the former showroom.

While the front of the building has always embraced the city, in the past it turned its back on the area behind it. Opening up and activating this side of the building was consequently a priority of the redevelopment. The hinge point of the building was pierced by an underpass that allows pedestrians to move freely between the forecourt and the area behind the building. To underscore the sociocultural importance of the underpass one of the side walls has been embellished with a graphic mural by the artist Thomas Trum.

Private outdoor spaces were mainly added to the rear elevations where they further enliven this side of the building and in so doing increase social control over the public space.

A new penthouse level has been added to the roofs of both wings. The design of this extension was informed by a desire to crown the visible and clearly legible construction of the original building. The brushed aluminium reflects the surroundings and reacts to weather conditions. It starts to shine in sunlight, turns completely grey when it's cloudy and almost blue under a clear blue sky. Given the mercurial nature of Dutch weather, the structure changes colour several times a day.


Location: Amersfoort
Type: Reconversion of a listed building
Program: Parking garage, café/restaurant and 31 apartments
Completion: 2021
Client: Schipper Bosch Projecten
Main contractor: Karbouw
Landscape contractor: VIC Landscapes
landscape design: ZUS
Mural: Thomas Trum
Photography: Ossip van Duivenbode
Archive images: Birds eye: from book 'Nefkens Amersfoort 1880 - 2000';
Forecourt: unknown